Ny slot och pengaregn hos Mr Green
16 november, 2015 | av Olof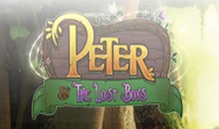 Mr Green släpper någon gång under dagen idag måndag (16 november) sin tredje exklusiva slot efter The Marvellous Mr Green och Moonlight. Peter & The Lost Boys är titeln och spelet baseras lite löst på sagorna om Peter Pan, Tingeling och de andra i landet Ingenstans. När vi skriver det här är spelet inte live och vi har därför inte kunnat prova på det, men av det vi har hört verkar det lovande.
Om du hittar på spelet i utbudet och provar på det idag kommer du automatiskt med i en utlottning av totalt 10 000 kr. Det är 20 spelare som väljs ut helt slumpmässigt och vinsterna är i storleksordningen från 50 kr till 2500 kr. Det räcker med ett betalat snurr (spel med bonuspengar räknas) för att du ska komma med i utlottningen.
Exakt samma erbjudande gäller också i morgon tisdag. Vinner du inte i dagens dragning har du alltså en ny chans att bli en av de 20 som premieras med kontantpriser i morgon.
I övrigt fortsätter priskampanjen på IGT:s nya spel Texas Tea. Även för den här kampanjen behöver du bara spela för att delta. Omsätter du 100 kr på Texas Tea får du en lott till en dragning där 500 spelare får dela på 150 000 kr i kontanter.