Free spins och super spins på Fantasini
11 februari, 2016 | av Olof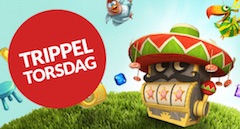 Idag vid lunchtid kommer en ny slot att dyka upp på alla NetEnt-casinon. Det handlar om Fantasini: Master of Mystery. Det är en slot med ett trollkarlstema och spelet ståtar med nästan exakt samma spelmotor som den som NetEnt har stoppat in i Twin Spin. Det innebär att du är garanterad att minst två stycken av hjulen snurrar synkat i varje spelomgång.
Om du vill prova på Fantasini med free spins är Guts Casino ett av de mest givna valen på premiärdatumet, detta eftersom spelet är i fokus i den stående kampanjen Torsdags Trippel. Sätt in och spela idag för att få gratissnurr i dagarna tre – så enkelt är det!
Upp till 90 super spins!
Om du känner till kampanjen Torsdags Trippel sedan tidigare vet du att det normalt finns 10 eller 20 snurr att inkassera per dag fredag, lördag och söndag med en insättning på torsdagen. För just den här veckan har Guts dock spetsat erbjudandet något och alla spelare kan säkra upp till 90 super spins på Fantasini: Master of Mystery.
Alternativen är som följer:
Sätt in mellan 200-499 kr = få 10 snurr
Sätt in mellan 500-749 kr = få 20 snurr
Sätt in mellan 750-1249 kr = få 30 snurr
Sätt in 1250 kr eller mer = få 30 snurr på insatsnivå 2